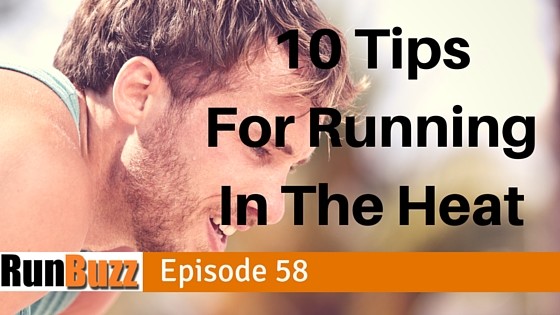 Show Notes:
In this episode, I share 10 tips that every runner should know when it comes to running in the heat.  I'll share why running in the heat is difficult and what you can do to minimize the impact that warm temperatures has on your training.  I'll also cover early warning signs of heat illness like heat stroke and exhaustion.   Plus, at the end of the show, you'll hear from Scott Jenkins, one half of the Jenko brothers, to get a post run report of their trip across Iceland to raise money for cancer research. This is a follow up to RunBuzz Episode 54 when we first spoke with Scott about his journey to run across Iceland.
Warning Signs and Symptoms of Heat-Related Illness
The following signs and symptoms and first aid comes from the Center for Disease Control and Prevention. You can visit their page for more information on heat related illness here.
Heat Exhaustion
Symptoms:
Heavy sweating
Weakness
Cold, pale, clammy skin
Fast, weak pulse
Nausea or vomiting
Fainting
What You Should Do:
Move person to a cooler location
Lie down and loosen your clothing
Apply cool, wet clothes to as much of your body as possible
Sip water
If you have vomited and it continues, seek medical attention immediately
Heat Stroke
Symptoms:
High body temperature (above 103 F)
Hot, red, dry or moist skin
Rapid and strong pulse
Possible unconsciousness
What You Should DO
Call 911 immediately – This is a medical emergency.
Move the person to a cooler environment.
Reduce the person's body temperature with cool clothes or even a bath.
Do not give fluids.
Why Do Runners Slow Down In The Heat
Before we get into the ten tips for running in the heat, I think it is also important to know why we slow down on hot days.
It isn't just the heat or our mindset, there actually is a physiological reason why we slow down.
When it gets hot out, we sweat. Our bodies cool down through sweating. Actually, it is the evaporation of our sweat that cools our body as heat is transferred during the evaporation process.
When our body heats up, some of the blood that normally goes to our muscles and organs gets diverted to our skin.  Our blood contains fluids, like plasma and water that our skin cells need to sweat.  As a result, our bodies fatigue faster since not as much is made available to our muscles. This is why it is difficult to run on warmer days.
I go into this in more detail in the episode and even how this ties into our fueling and how this redirection of our blood impacts our bodies ability to utilize fuel.
While this is important for runners to understand, I'll save it for the podcast.
Staying hydrated is the best defense for a hot day!
Now let's get on to our 10 tips…
10 Tips Every Runner Should Know About Running In The Heat
 Run early or during the coolest part of the day.  Keep in mind that the coolest part of the day may not always be the morning and take humidity into account. Sometimes, humidity is higher in the morning.
Wear light, moisture wicking clothing.  Moisture wicking clothing pulls moisture away from the skin and light colored clothing reflects more of the sun's heat. Do not wear cotton shirts!
Wear hats that have an open top (visor style). Baseball caps trap in heat.
Carry a small sponge to keep you cool. Use a water stop to replenish the water. Use a natural sponge, not a dish sponge.
 Take a cold towel with you and keep in a cooler with ice and water for after the run. It is amazing!
Run in shaded or heavily shaded areas.  It can be five, ten or fifteen degrees cooler in the shade.
Stash water along the route if needed.
Take your run indoors.  If the heat is too much or you do not feel safe to run outside, take your run inside.
If starting a new running program, do it when the weather is cooler, not in the heat of summer.
SLOW Down!  I go into a lot of detail with this one in the podcast, but slowing down in OK. You will get the same level workout by going slow in high heat, as you will in cooler temperatures. Target races that you want to PR during times when weather is not hot. Be sure to listen to my rant on why your pace is NOT IMPORTANT on warm days.
Scott Jenkins Iceland Update
They did it!  They ran 205 miles across Iceland. Be sure to listen how their journey across Iceland went.
To support the Jenko brothers and their mission to fight cancer by raising money for cancer research, check out the Jenko brothers on Facebook.
Be sure to listen to episode 54, where I feature Scott and their adventure to run across Iceland
Have a great week!
Running Resources
PaceBuilders™ Training System – A complete, end to end, custom training program for runners. Get unlimited 'customized' training plans with unlimited modifications that match your lifestyle and running goals. PLUS, get access to video training sessions and unlimited support so you can blast through your running goals.
Customized Training Plans For Any Race Or Distance – 100% handwritten custom training plans written around your unique situation. Don't settle for generic training plans found in books, magazines, or online. Our training plans take your history, your goals, your fitness profile and your lifestyle into consideration. Includes free access to Final Surge, where you can view and log your workouts anywhere you have access to a web browser, or use the mobile app.
Runner's Toolkit – Get access to 30 days of free coaching tips by email and get your #1 running question personally answered by me, just for signing up. Plus get free access to our private Facebook community where other RunBuzz community members gather for support, camaraderie and general shenanigans.
Find out how you can support RunBuzz's mission to bring quality running content (educational, inspirational, etc) to the running community. Help support me in my mission to make every runner regardless of age, size and ability a better runner.
---
Join The Community: Subscribe and Review!
If you'd like to get RunBuzz delivered automatically to your smartphone or podcast player at no charge to you, please subscribe using your preferred method below:
If you'd like the direct RSS feed for your own favorite RSS Podcast Player, click here to get it!
If you get a chance, please leave me an honest review and rating on iTunes by clicking here. (This helps me get the show up in the rankings and I'd deeply appreciate it. 🙂 )
---
I Appreciate Your iTunes Reviews!
Getting a 5 star rating and/or written review is incredibly important for this show. It helps with ranking and with generating the necessary exposure that gets this podcast out in front of other runners.
But it is even more important to me!
I read each and every comment and really take them all to heart. They provide encouragement that what I am doing is getting noticed and that the show is getting listened to.
I am so thankful to those who have recently gone into iTunes to provide a five star rating and written a review of RunBuzz Radio.
If you can and would like to provide a rating and/or write a review (there's certainly no obligation), then you can do so by following these instructions:
1) Go to the show's iTunes Page or search "RunBuzz" from iTunes if you aren't already a subscriber.
2) Open the page in the iTunes app, and click on the number of stars for the rating you think I deserve.
3) Write a sentence or two to share your comments.
Thank you SO Much!
---
The following two tabs change content below.
Steve is the founder and head running coach of RunBuzz.com. Steve is host of the RunBuzz podcast and founder of
PaceBuilders
, a complete online training program for runners. Steve is a RRCA / USA Track and Field Certified Running Coach and resides in Lewis Center, Ohio.