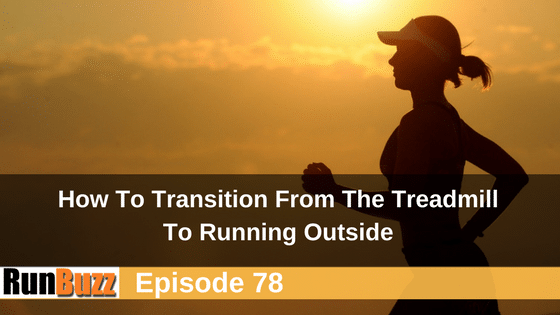 Ok, treadmill warriors.  The weather is breaking and now is time to take your running outside.  But before you hit the running trails,  you will want to prepare for outdoor running by transitioning from the treadmill properly.
Outdoor running is NOT the same as treadmill running. In this episode, Stephanie and I break down the differences between treadmill running and running outdoors and show you how to transition from treadmill running to outdoor running safely.
Show Notes:
So back in episode 22, I published an episode where I talked about running on the treadmill. As part of that episode, I walked through several tips you could implement when it came to treadmill running.
I also talked about some of the advantages and disadvantages of running on a treadmill and how to use a treadmill to your advantage. So, to jump start this episode,  I thought it would be good time to review a few of them because some of these things will come into play when we talk about transitioning from the treadmill to outdoor running.

One of the key takeaways is that treadmill running is NOT the same as outdoor running.  Both surface and bio-mechanics when it comes to  treadmill running is different than outdoor running. If you are primarily a runner who uses the treadmill regularly and all of a sudden you shift to outdoor running, you may see new running problems pop up. For example, injuries, heavy or achy legs, feet, or lower back and changes in your running pace are all common things that runners may experience when switching from the treadmill to outdoor running.  In fact, even the opposite is true if you transition to indoor running. 

So  to address this, we thought this would be a good time review this in a podcast episode because this is the time of the year (depending where you live) that the cold, crappy weather is starting to break and we start to get more and more nice days to run outside.

Before we talk about the transition process,  let's first start with the advantages and disadvantages of treadmill running. Runners should be aware of these as treadmills can have both a positive and negative effect on your running.  


Advantages of Running on a Treadmill
Treadmills are the safest option when it comes to avoiding running in extreme cold, extreme heat, dark, or other dangerous running conditions.


Many hotels have treadmills in their workout rooms, which makes treadmills a convenient option when traveling.


Treadmills can help simulate warmer weather for those who live in cold areas but travel to race in hot climates. Just crank  the heat and run.


Treadmill deck surfaces are generally softer, smoother, and easier on your feet and joints.


Most modern treadmills have a variety of workouts and features to help make your training more interesting. Just note that when it comes to things like calories burned their accuracy is way off in most cases, so it is a vanity metric only.


You can watch TV while running on a treadmill, which may help limit boredom while running.
Speed intervals can be easier on a treadmill as it keeps pace for you easily.  Just set the speed and go. GPS watches have a delay in recording pace and looking at your watch during a speed interval is not the best thing for your running form.
Treadmills are great for moms and dads when they need to watch the kids and get a run in.
Disadvantages of Running on a Treadmill
Running on a treadmill is not exactly the same as running outside. Back in episode 21, with Dr. Rami Hashish, an expert who studies foot strike,  taught us that  foot strike tends to be shorter or more extended, depending on your comfort level on the treadmill. This variation in foot strike makes it difficult to maintain the same running form you have when training outdoors.


When running on a treadmill, the belt helps propels you forward. In road and trail running, you don't have this same momentum. You have to push off from the surface as well as address wind and terrain changes.


On a treadmill, it's easy to get distracted or lose focus by everything else that's going on in the gym or on the TV. Because of this, you may forget to pay attention to your running form.


Runners often pace surge and pull back when running on treadmills.  By this, I mean they tend to twittle around with the speed controls, TV channels, and other distractions and therefore do not maintain a smooth, constant speed or rhythm.


For many, treadmill running can be boring, especially with longer distances.  This is more of a personal preference of each runner.


Since treadmill deck surfaces are easier on your feet and joints, they can help soften the impact on your muscles, bones, and joints. However, this can come at a cost when you take your running outside after primarily training indoors.  Impact may create wear and tear, but you don't always want to avoid it. When done in a careful and controlled manner, impact helps your muscles, bones, and joints become stronger.  If you always run on a treadmill, your level of adaptation will be in relation to the level of surface softness you run on – in other words, when you eventually take your running outside, your body won't handle the impact as well as someone who trains outside. So mix it up and try to get outdoors and run when you can.




Tips for Transitioning from Treadmill to Outdoor Running
If you are train mostly on a treadmill, take your time when transitioning to outside running.  Start by taking one run per week outside starting with your shortest run.  This helps you slowly adapt to the differences in running gait, impact and intensity.
Slowly add in additional outdoor runs over a several week period. Only add a new outdoor run if there are no signs of trouble.
Outdoor running is more difficult and demanding than on the treadmill.  Use level of effort, not pace as your guide. Not only is it more effective to train by effort than pace, it will reduce the risk of injury while making the transition. If you run a 9:30/mile pace on a treadmill,  you may only be able to run a 10:00/mile pace outdoors until you adjust to outdoor running surfaces and resistance.


During the transition period, limit runs on hill or slanted (sloped) surfaces. For example, when running towards traffic, your left leg often has a longer reach to meet the road than your right leg. Stick to level running trails or sidewalks initially and slowly transition to roads if applicable.
Running Resources
PaceBuilders™ Training System – A complete, end to end, custom training program for runners. Get unlimited 'customized' training plans with unlimited modifications that match your lifestyle and running goals. PLUS, get access to video training sessions and unlimited support so you can blast through your running goals.
Runner's Toolkit – Get access to 30 days of free coaching tips by email and get your #1 running question personally answered by me, just for signing up. Plus get free access to our private Facebook community where other RunBuzz community members gather for support, camaraderie and general shenanigans.
Find out how you can support RunBuzz's mission to bring quality running content (educational, inspirational, etc) to the running community. Help support me in my mission to make every runner regardless of age, size and ability a better runner.
Join our Virtual Running Club on Strava – Download the Strava app and join our RunBuzz Running Team to participate in virtual runs, monthly challenges and track your progress. Our virtual running club help keep you accountable and running!
---
Join The Community: Subscribe and Review!
If you'd like to get RunBuzz delivered automatically to your smartphone or podcast player at no charge to you, please subscribe using your preferred method below:
If you'd like the direct RSS feed for your own favorite RSS Podcast Player, click here to get it!
If you get a chance, please leave me an honest review and rating on iTunes by clicking here. (This helps me get the show up in the rankings and I'd deeply appreciate it. 🙂 )
---
I Appreciate Your iTunes Reviews!
Getting a 5 star rating and/or written review is incredibly important for this show. It helps with ranking and with generating the necessary exposure that gets this podcast out in front of other runners.
But it is even more important to me!
I read each and every comment and really take them all to heart. They provide encouragement that what I am doing is getting noticed and that the show is getting listened to.
I am so thankful to those who have recently gone into iTunes to provide a five star rating and written a review of RunBuzz Radio.
If you can and would like to provide a rating and/or write a review (there's certainly no obligation), then you can do so by following these instructions:
1) Go to the show's iTunes Page or search "RunBuzz" from iTunes if you aren't already a subscriber.
2) Open the page in the iTunes app, and click on the number of stars for the rating you think I deserve.
3) Write a sentence or two to share your comments.
Thank you SO Much!
---
The following two tabs change content below.
Steve is the founder and head running coach of RunBuzz.com. Steve is host of the RunBuzz podcast and founder of
PaceBuilders
, a complete online training program for runners. Steve is a RRCA / USA Track and Field Certified Running Coach and resides in Lewis Center, Ohio.