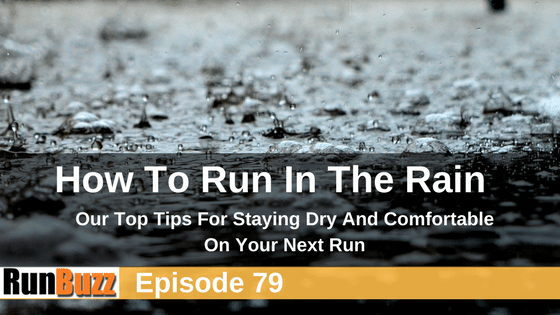 As a runner, learning how to run in the rain is important. You don't always have to run outside, for example you can choose to take your run indoors to a treadmill or indoor track, but getting experience in the rain, will help you on days where it decides to run during your race. In fact, getting used to rainy runs under various conditions (cold, wind, heat) can be very useful on race day. In this episode, you will learn how to deal with rainy running conditions directly and several tips on how to run in the rain comfortably. All this and more, coming up on today's podcast.
Show Notes:
 In this episode, Coach Stephanie and I walk through several tips for how to run in the rain and stay reasonably comfortable in most cases. These tips were things that we have learned over the years living in a part of the country that gets a lot of rain (Ohio) or have picked up from other runners that we have learned from.
As a runner, learning how to run in the rain is important. You don't always have to run outside, for example you can choose to take your run indoors to a treadmill or indoor track, but getting experience in the rain, will help you on days where it decides to run during your race. In fact, getting used to rainy runs under various conditions (cold, wind, heat) can be very useful on race day. You will learn how to deal with the weather conditions directly and it will help your mindset going into run when conditions are bad. In fact, this topic was inspired by the 2018 Boston Marathon in which race conditions was horrible with driving rain, wind, and cold.
For a complete discussion of these tips, we highly recommend that you listen to the podcast in its entirety because we elaborate on some the tips.
How To Run In The Rain
Take your run indoors to a treadmill or indoor track – Obviously, you can bypass your run and take it indoors. Problem solved.
Wear a hat – Wearing a hat with a brim can help block the rain from hitting your face and if it is cold, will help keep your head warm since most heat is lost through your head.
Carry some BodyGlide or Vaseline – Wet clothing leads to increased risk of chafing and blisters. Men, to avoid the dreaded bloody nipples, I highly recommend applying waterproof band aids before your run to prevent nipple chafing.  You will thank me later. 😉
Dress in layers when it is cold with an outer layer that is a water and wind resistant shell – A lightweight waterproof or water resistant running jacket may be all you need in warm temperatures, but wearing one over warmer clothes will help keep you dry in colder temperatures.  Also get one that its wind resistant to help keep the cutting chill from the wind out. When using a water resistant jacket, be sure to wear a moisture-wicking base layer underneath that will allow sweat to wick away from your skin. Finally, look for an outer shell that is vented.  In other words, a jacket that has vents woven in usually under flaps in the back and under your arm pits. This will allow your sweat to evaporate as well as help cool you when you warm up. Some examples can be found here.
Wear highly visible clothing if running near traffic – Rainy days are usually low visibility days when it comes to driving. Anything you can do to make yourself more visible increases your safety.
Protect your electronics – Using a zip lock bag or waterproof covering can prevent accidental water damage to your phone or other electronic devices. Most running watches are water resistant, but if you are not sure, check with the manufacturer specs to see what the waterproof rating is. Look for ratings like ipx6, ipx7, or ipx8.
Wear old shoes and socks and switch to dry shoes/socks at race time – If it is raining before the race, wearing old shoes and socks that you can throw aside will allow you to start the race with dry feet. This works especially well when the rain stops before the race or early enough that you can get through the race with dry feet. If you don't have old shoes, wrap your shoes with plastic shopping bags and tape them around your feet. Then you can just remove the bag before the race.
Carry a large garbage bag in your running belt – A large garbage bag can be used as an emergency poncho or help you keep warm should you need it.
Watch where you are running – It seems obvious, but sometimes I get talking with other runners and forget to pay attention where I step. I can't tell you how many times a puddle was deeper than it looked.
Dry your shoes after they get wet – Fill your shoes with newspaper, or put them upside down over a heating register in your house and allow them to dry out thoroughly. Do not put them in a dryer as that can damage your dryer or your shoes.
Avoid running when lightning is in the area – Yes, you can be struck by lightning.
Prevent and be aware of Hypothermia – If it is cold or cool out, getting wet can lead to hypothermia, a condition where your body can't maintain normal body temperature and your core body temperature gets too low.  In fact, the majority of people who dropped out of the 2018 Boston marathon, dropped out because they were cold and wet and many were treated for hypothermia.
Running Resources
PaceBuilders™ Training System – A complete, end to end, custom training program for runners. Get unlimited 'customized' training plans with unlimited modifications that match your lifestyle and running goals. PLUS, get access to video training sessions and unlimited support so you can blast through your running goals.
Customized Training Plans For Any Race Or Distance – 100% handwritten custom training plans written around your unique situation. Don't settle for generic training plans found in books, magazines, or online. Our training plans take your history, your goals, your fitness profile and your lifestyle into consideration. Includes free access to Final Surge, where you can view and log your workouts anywhere you have access to a web browser, or use the mobile app.
Runner's Toolkit – Get access to 30 days of free coaching tips by email and get your #1 running question personally answered by me, just for signing up. Plus get free access to our private Facebook community where other RunBuzz community members gather for support, camaraderie and general shenanigans.
Find out how you can support RunBuzz's mission to bring quality running content (educational, inspirational, etc) to the running community. Help support me in my mission to make every runner regardless of age, size and ability a better runner.
Join our Virtual Running Club on Strava – Download the Strava app and join our RunBuzz Running Team to participate in virtual runs, monthly challenges and track your progress. Our virtual running club help keep you accountable and running!
---
Join The Community: Subscribe and Review!
If you'd like to get RunBuzz delivered automatically to your smartphone or podcast player at no charge to you, please subscribe using your preferred method below:
If you'd like the direct RSS feed for your own favorite RSS Podcast Player, click here to get it!
If you get a chance, please leave me an honest review and rating on iTunes by clicking here. (This helps me get the show up in the rankings and I'd deeply appreciate it. 🙂 )
---
I Appreciate Your iTunes Reviews!
Getting a 5 star rating and/or written review is incredibly important for this show. It helps with ranking and with generating the necessary exposure that gets this podcast out in front of other runners.
But it is even more important to me!
I read each and every comment and really take them all to heart. They provide encouragement that what I am doing is getting noticed and that the show is getting listened to.
I am so thankful to those who have recently gone into iTunes to provide a five star rating and written a review of RunBuzz Radio.
If you can and would like to provide a rating and/or write a review (there's certainly no obligation), then you can do so by following these instructions:
1) Go to the show's iTunes Page or search "RunBuzz" from iTunes if you aren't already a subscriber.
2) Open the page in the iTunes app, and click on the number of stars for the rating you think I deserve.
3) Write a sentence or two to share your comments.
Thank you SO Much!
---
The following two tabs change content below.
Steve is the founder and head running coach of RunBuzz.com. Steve is host of the RunBuzz podcast and founder of
PaceBuilders
, a complete online training program for runners. Steve is a RRCA / USA Track and Field Certified Running Coach and resides in Lewis Center, Ohio.