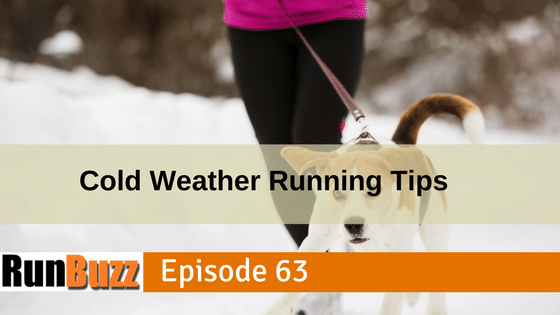 In today's episode, we share our best cold weather running tips for training safely in cold weather. We talk about the best ways to acclimate to cold temperatures, the best gear for cold weather training, runner safety, and some general tips on how to make running in cold weather more tolerable.
Cold Weather Running Tips:
Cold Weather Acclimation:  
If you do not like running in cold weather, one of the hardest things to do is getting the motivation to run when temperatures drop. However, if you stick with it, it does get easier because of the process known as acclimation.
Exposure to cold weather (or the same works with hot weather), in frequent increments can help your body adjust to the cold weather.  What feels cold today, will not feel as cold 2-3 weeks from now, IF you make an attempt to spend time in the elements getting your body used to the weather.
There are two basic ways to get acclimated:
 Just suck it up, layer up, and push yourself to run in the cold (this requires more mental and physical fortitude)
Expose yourself to cold weather in more frequent, but shorter duration bursts.  For example, take your dog for a walk several times a day around the block, park further out in the parking lot when you go shopping and spend part of your run outside and part of your run on the treadmill, slowly increasing your exposure over a 2-3 week period until acclimated.
Listen to the podcast for more cold weather running tips around acclimating to cold weather.
Cold Weather Gear
There is running gear for just about every weather condition. Cold weather running gear follows the same rules as warm weather running gear, as far as finding gear that is moisture wicking, especially if using a base layer. There is even gear that you can wear on your running shoes to help with traction. Yaktrax (see the here on Amazon) works great for packed snow or conditions where you need a little more bite with your footing.
For best results, dress as if it is 20 degrees warmer than it is.  As your body warms up during the run, the outdoor temperature will start to feel warmer than it actually is.  For example, 30 degrees Fahrenheit will feel more like 50 degrees Fahrenheit  once you get moving.
When shopping for cold weather gear,  look for running pants and jackets that are cold weather rated.  Some clothing is based for moderate temperatures (Spring and Fall for most) and other gear is rated for even colder temperatures. Finding the right gear for the right weather condition can go a long way towards feeling comfortable when the weather isn't perfect for running.
Use hats and gloves, and if temperatures are extremely cold, layer up.  Always wear a hat as most heat is lost through your head.  Using hand warmers and/or toe warmers can also make your runs more enjoyable.
Listen to the podcast for more cold weather running tips and cold weather running gear.
Cold Weather Safety
Running in the winter usually comes with running in the dark if you are someone who usually runs in the reflective gear and other items that help make you more visible.
Additionally,  running in the cold does introduce risks such as hypothermia, frostbite, and exercise induced asthma.  One of the biggest risks we have as runners is working up a good sweat, then getting injured far from our car or home.  If we have nowhere to take shelter or the ability to call for help it can lead to hypo-thermic conditions.  Keep in mind, many phones can get so cold that the battery dies. Always have a warm place next to your body to stow your phone.
Listen to the podcast for more cold weather running tips focused on safety and hear my story of being stranded 2 miles from home with my dog and a phone that did not work.
I hope you enjoyed this episode of the RunBuzz podcast.
Happy Running!
Steve
Running Resources
PaceBuilders™ Training System – A complete, end to end, custom training program for runners. Get unlimited 'customized' training plans with unlimited modifications that match your lifestyle and running goals. PLUS, get access to video training sessions and unlimited support so you can blast through your running goals.
Runner's Toolkit – Get access to 30 days of free coaching tips by email and get your #1 running question personally answered by me, just for signing up. Plus get free access to our private Facebook community where other RunBuzz community members gather for support, camaraderie and tips.
Find out how you can support RunBuzz's mission to bring quality running content (educational, inspirational, etc) to the running community. Help support me in my mission to make every runner regardless of age, size and ability a better runner.
---
Join The Community: Subscribe and Review!
If you'd like to get RunBuzz delivered automatically to your smartphone or podcast player at no charge to you, please subscribe using your preferred method below:
If you'd like the direct RSS feed for your own favorite RSS Podcast Player, click here to get it!
If you get a chance, please leave me an honest review and rating on iTunes by clicking here. (This helps me get the show up in the rankings and I'd deeply appreciate it. 🙂 )
---
I Appreciate Your iTunes Reviews!
Getting a 5 star rating and/or written review is incredibly important for this show. It helps with ranking and with generating the necessary exposure that gets this podcast out in front of other runners.
But it is even more important to me!
I read each and every comment and really take them all to heart. They provide encouragement that what I am doing is getting noticed and that the show is getting listened to.
I am so thankful to those who have recently gone into iTunes to provide a five star rating and written a review of RunBuzz Radio.
If you can and would like to provide a rating and/or write a review (there's certainly no obligation), then you can do so by following these instructions:
1) Go to the show's iTunes Page or search "RunBuzz" from iTunes if you aren't already a subscriber.
2) Open the page in the iTunes app, and click on the number of stars for the rating you think I deserve.
3) Write a sentence or two to share your comments.
Thank you SO Much!
---