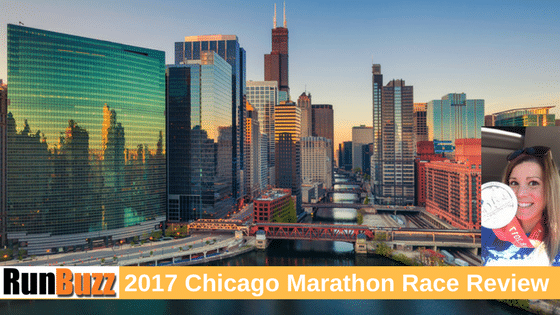 The Chicago Marathon, one of six in the World Championship Series. Standing in the ranks of Boston, New York City, London, Berlin and Tokyo, this is one of the biggest marathons in the world. This year, I "won the lottery" by placing my application back in November of last year and receiving my acceptance email in December. Four months of solid training later, I stepped to the starting line right after American winners Galen Rupp and Jordan Hasay, and over 40,000 of my best friends from around the world for the 40th anniversary.
I drove with my husband and my 2 older kiddos the 6 or so hours up on a very rainy Friday morning.
The Expo
We visited the Shedd Aquarium, then headed over to the expo. Chicago is the biggest race I have ever signed up for, and I assumed packet pickup would be a longer-than-usual process. The first area was the check-in point. With the QR code I was sent earlier in the week, I scanned in, had my ID checked, then sent to another set of terminals. The volunteer told me to go to station 10 where I was greeted by my first name. All my info was up on this other screen where I collected my bib. Absolutely seamless, and zero wait time standing in line.
Across the lobby and between the entrance doors was a big screen playing the course video on repeat. As I walked to the back of the venue for shirt and goody bag pick-up, I passed the Asics booth. I realized I just walked past Deena Kastor.  I turned right back around. Instead of being like, "You are an amazing runner and an inspiration!" I was a little too excited and just said "Hi! Can I get a picture?" then pulled my girls over to join in. "KIDS! This is an OLYMPIAN! SMILE!" She autographed a poster for me, and we continued on back where there were plenty of volunteers and no wait. They offered a t-shirt exchange which I always appreciate in case the shirt runs too big or too tight. Thankfully, no issues there.
2 hours later, 100 pictures of myself next to basically everything, and all my money gone from buying all the Nike merchandise, we headed out to the hotel.
We stayed at the Marriott Courtyard in River North. Tons of restaurants around and only 0.6 miles to the start line. They even set up a little poster making stand Saturday night and provided all the materials. We took the late checkout option of 2p so I could shower afterwards, and I will admit, we cut it pretty close. When running a race of this size, I would recommend staying to the next day so you don't feel so rushed.
Saturday Sight-Seeing
Saturday morning was spent doing the touristy things. Walking the city, taking the girls down to Millennium Park to see The Bean and fountains. It has been about 6 years since we had been to Chicago, so we noticed a ton of awesome new things down there. If you take kids with you, there is now a giant playground, climbing walls, and rollerblade/skate/scooter track down in Maggie Daley Park. Since my girls did not find the city to be as awesome as my husband and I do, this was a nice break for them. We found the start line set-up progress in our adventures out there, and the real nervous energy began.
We went on a boat tour, did some shopping on Michigan Avenue, then met up with my friend, and Pacebuilders coaching client, Suzy and her family at Maggiano's. Very friendly staff, and all dishes are made from scratch, so they can alter any recipe to suite all needs and accommodate for allergies. If you have any nut, gluten, lactose issues, this place is a great option for a pre-race pasta dinner!
Race Morning
I got up nice and early and headed down to the start line around 6:15 am. One of my favorite parts about downtown races is that I can just follow the crowd and magically appear where I need to be. I saw a cardboard cut out of the Pope with the thumbs up and figured that could be good luck, so I took a selfie. I walked into the first wave and turned into a big crowd where everyone was just kind of standing around, stuck. Turns out they were funneling everyone through medal detector check lines. I had heard that outside of the police presence on the course and helicopter surveillance, undercover cops would be running the race as well. After the Vegas shooting the previous weekend, I really appreciated seeing the extra measures that went down to keep us safe.
I ended up spending 35 minutes in line getting through that point, so I was nervous going to get in line for the porta potty and just headed to the corral. I was glad I did not have a bag to gear check since those people were running everywhere. There was no line for it, so it looked like a quick drop off process. I crossed the start line about 15 minutes after the race started.
My favorite part of the start line was all the diversity. So many people representing so many different countries, all here for the same reason. I heard so many different languages, and although I did not understand any of them, everyone was very friendly and sharing good lucks all around. It was neat to see everything from the inside and not by watching it on TV. It was a comfortable upper 50-something-degree start, but with the temps expected to hit near 80, the EAS system was beginning at a yellow "moderate" watch.
Time to Run
RunBuzz inside advice I was given by Coach Steve was to avoid the edges of the road by the tunnel, so I stuck to the middle of the road. Good thing too, everyone was peeing under that tunnel and it was puddling up at the entrance. Running over the grated bridges was tough, thankfully they put carpets down. I saw my family around the 5k point near our hotel, then continued up the north side past the Lincoln Park Zoo. For the most part, it was nice and shady with the downtown buildings and all the trees down the course. I spent the first 12 miles chasing the 3:45 pace group.
The first 7 miles seemed to fly by. Each mile and kilometer was marked so it felt like I was constantly seeing progress. By mile 8 I felt like I should have been warmed up and feeling better than I did, but my legs just felt tired. What the heck? Then it hit me, so much walking around the city Friday and Saturday was a bad idea. Even with frequent breaks in between, it was too much. Future advice: travel Saturday-Monday, not Friday to Sunday.
When I first read that the water stops would be 2 city blocks I wondered how they could be so long! 1st was a medical aid station with ample vaseline and porta potties and staff. Gatorade was the first block, then water for the second block. I jumped off around mile 12 to pee, and I was pointed right to the 1st available porta potty so I did not even have to look for one. When I jumped out they directed me right back to the course. Felt great for another mile where I took off way too fast hoping to catch up to the pacers again, then the sun was out in full blaze mode.
On the track out to the south side for the second half of the course, it suddenly felt so hot. Out of the shade of the skyscrapers, I started noticing a lot more walkers. I started to feel sick. I figured it was because I had not fueled yet. I took my gel, which for some reason sat really heavy and made me feel worse. I decided from there out I would just stick to the Gatorade and water stops and hope that was enough. By mile 15 I started taking walk breaks. I had trained up to 22 miles and thought for sure I would not start hitting the wall until at least mile 18 based on the pace of the first half, but the sun was sucking out my soul.
Around mile 17 the firetrucks had these giant fans set up between water stops with a hose in front to mist a good half of the street. Some of the residences along the course put their hoses out to spray runners down that many took advantage of. I can tell the race planned for the hot weather as volunteers handed out cool, wet sponges a few different times during the last 10 miles of the race.
Pictures: Miles 15 vs. Mile 20-something…
Course support was spectacular! Spectators and signs and volunteer cheer groups every step of the way. The entire city really seems to embrace this event and bring their culture into their cheering. I loved running through the  neighborhoods and seeing how different each one was. Their signs, their music, the languages; it was never the same and really gave me something to keep looking forward to.
Come mile 20, I felt like there was not enough water in the world to save me, however, the water was shloshing around my stomach. The Gatorade stops turned into the stickiest streets. I had to peal my shoes off the ground with each step I took even though I ran in the middle of the street. I was just trying to make it to the water so I can clean off my shoes. The volunteers handing out water were running back and forth working frantically to keep filling the cups. I would easily go through 3-5 cups drinking some and dumping the rest on my body to cool off. My skin felt gritty, covered in salt. Seemed like the sweat was being evaporated as fast as it was coming out. I could tell I was not fueling like I needed for how much I was losing, but I just felt like garbage and had to keep convincing myself it was almost over. At this point I swear every sign I read said, "Smile, you paid to do this," and, "This your idea of "winning the lottery?"
…..So began the most difficult part of the race, the mental one.
Somewhere around mile 24 when I was walking again, some lady looked right at me and yelled, "you worked too hard to give up now! Go finish this!" Damn right lady, 4 months of training and 24 miles in and I DID work hard. There was no doubt I was going to finish this thing, but dang did it hurt.
WHAT AM I CAPABLE OF?! I am never signing up for another marathon. I hate marathons. Why did I pay money to do this?! At this point, I don't deserve that post race Bloody Mary bar at the hotel. Do I even deserve the finisher's jacket if I blow my goal this bad? Everyone I know is tracking me on the app and seeing my pace fall apart. The thoughts that I started to think; me-my own worst critic. I looked at my watch and thought, I can still do it, I can still sub 4 this, its only 2 more miles, 2 miles is easy. 2 miles was a shakeout yesterday. My legs weren't listening. What can you do?
I had to laugh when I noticed that each aid station had progressively larger vaseline displays. Nearly everyone was stopping on the way past to get a swipe off the vaseline board and lather up. We were all soaked from dumping water and sweating that I don't think there was enough vaseline in the world for this race. "Chafing the Dream" if you will.
I know quite a few people left messages for me to see on the Jumbotron near the end, so when I saw it, I noticed a chip pad on the ground and few messages popped up. Right then we turned the corner to the most awful hill. My quads cramped in a way I had never felt before, but I passed a sign that read 300 meters go: the finish was less than 1 lap around a track. Once I made it to the top of the hill, the course turned left and I saw the most beautiful sight, the Finish Line. In just a few more steps the pain would be over. Thankfully that uphill went back down hill to get me there. OUCH.
The Finish
I crossed in 4:03:31. Not nearly as bad as I started to predict at mile 15 when it really started to hurt.
The emails leading up to the race warned us that if we stopped, or tried to sit down after the finish line, a medical worker WILL escort you the medical tent for an exam. My quads were burning so bad, that after I received the medal, I stepped over to the fence to stretch. I can assure you I was immediately approached by a medical worker.
"Sorry! I am not really dying, my legs just really hurt, I just want to stretch." She wasn't having any of it. She asked if I ate breakfast, how I fueled during the race, if I felt too hot, had enough water to drink? She made me drink more Gatorade, eat an apple, then forced me to stand under the hose. Like a giant crybaby, I let out all the tears because my shower in the hose was going to ruin all my official finisher photos. You know, I prepaid for the picture package to save $20, so this is what I was going to cry about. Running marathons is just emotional for me and they make me cry, this was the triggering moment. I'm not even ashamed to admit it.
I pulled it together for my finisher pictures, which did not turn out as bad as I thought based on how I felt. How long is this dang finish line anyways!? More picture opportunities at Buckingham Fountain, then finally, the Post Race Party where I found my family. It was basically live music on a stage and a few vendors and beer tent; not as exciting as I thought it would be. Every single runner out there said "congratulations" as they limped past each other. I loved that.
There was no finisher's merchandise tent, so I ended up ordering that jacket online. I am still a finisher 😉
Since I did not get my goal, I did not visit the Bloody Mary bar at the hotel, which I realized when I got in the shower I really should have. Maybe it would have dulled the pain of all the chafing when the water hit my body.
Post Marathon Thoughts
After all the "I'm never ever running another marathon ever" thoughts, 2 days later I started telling myself I had to beat that time. How was my first marathon so much better than this one? Although I know I left every ounce of effort I had on that course, I already started plotting where and when I can do it again. At the same time I keep asking myself, "What is wrong with me?! Why am I trying to do it again?"
I told my friends during training I hated 2-3 hour long 15-20 mile runs every Saturday morning and to throat punch me if I ever said I wanted to do this again. Well, I have terrible friends. Enablers…
I will admit, I had very high expectations going into Chicago as far as organization goes. To put on such an event, one of the biggest marathons in the entire world; the weekend was completely flawless and they did not disappoint! This was my first race that was broadcast across the world where I ran with elite athletes (Well, kind of. I never actually saw them). Galen Rupp was the first American male to win since 2002 and Jordan Hasay set a women's course record and is now the 2nd fastest American woman behind Deena Kastor (I met her!!)
Honestly, this is one amazing race.
The Chicago Marathon recently posted new qualifying times specifically for age groups for next year. If you don't qualify for automatic entry, you can sign up for the lottery beginning October 31st for the October 17, 2018 race!